Jo Ellen Wisnosky, L.Ac., DiplAc(NCCAOM), L.OM., DiplOM(NCCAOM), LMT, NCBTMB, BCBTMB, MBAcC.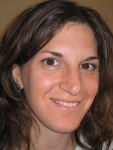 Jo Ellen Wisnosky has been in the alternative healthcare field for over 18 years. She studied Acupuncture in London, England, UK, for 4 years and holds a Bachelor of Science (BSc) with Honours (cum laude) from the University of Westminster, and has been in practice since 2004. She has completed study in Chinese Herbal Medicine at the Maryland University of Integrative Health in 2018. She is Nationally Certified in Acupuncture, Oriental Medicine (which includes Chinese Herbal medicine) and Bodywork.
She also trained in Massage Therapy at IPSB in San Diego, California and has 900 hours of bodywork training. She initially became interested in Acupuncture after studying Eastern bodywork (Shiatsu and Tui Na Massage) at the International Professional School of Bodywork in San Diego.
Acupuncture helped her fully heal a shoulder injury she sustained while surfing, when no other form of therapy was working. After witnessing the potential of acupuncture first-hand, she decided to further her knowledge and skills and undertake the educational journey that has shaped her life and desire to help the wellness and well being of others through this ancient and modern medical practice. Her training includes acupuncture, Chinese herbal medicine, traditional Chinese and contemporary myofascial cupping, fascia research, tui na massage, Chinese nutritional therapy, acupressure, and qi gong self-healing.
Jo Ellen licensed to practice Oriental Medicine (including Chinese herbal medicine),Acupuncture and Massage in Pennsylvania. She is Nationally Certified in Oriental Medicine as well as Acupuncture by the National Certification Commission for Acupuncture and Oriental Medicine (NCCAOM). She is Nationally Certified in Massage Therapy and Therapeutic Bodywork (NCBTMB).
She is also a registered member of the British Acupuncture Council,
She has love for the ocean and its natural surroundings, and enjoys surfing and spending time by the sea whenever possible. The influence of the ocean translates into her approach to acupuncture and bodywork. She caters for physically active people, those who encounter a buildup of stress and tension at work, those with women's health concerns, and those who are seeking a balance in their life of mind, body and spirit.
She tailors all treatments to an individual's needs, and feels this is the only way to optimal health for all patients.
Continuing Education is essential to her practice, bringing a constantly growing and expanding list of treatment options to the table.